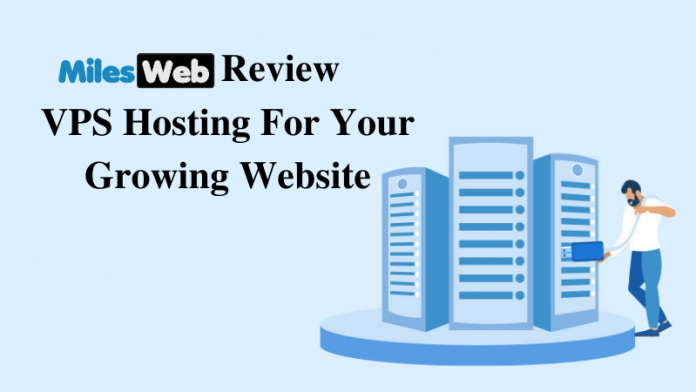 There are different web hosting options. VPS hosting has become a popular choice for websites with high traffic. 
Upgrading your site to a virtual private server(VPS) will help to improve your site performance if you are currently using a shared hosting plan. 
There are thousands of web hosting providers in the market today.
MilesWeb is one of the best web hosting Saudi Arabia providers in the market. They offer the fastest and affordable VPS hosting for high-traffic websites. 
In this article, I will be giving you a review of their VPS hosting. 
With this, you will have a clear idea about their VPS hosting plans, features, pricing and customer service. It will help you decide if this VPS hosting provider is the right choice for you.
Before we dive into the review, let us know about VPS hosting in brief. 
What is VPS Hosting?
VPS stands for "Virtual Private Server." 
A VPS is a single server divided into multiple virtual segments. 
In a VPS, resources like CPU, RAM, disk space and OS are not shared with other users. When you opt for VPS hosting, you get full root access to the server to manage your websites and hosting account.
VPS hosting is an ideal option for powering complex websites and web applications.
The Pros of VPS Hosting 
You get more power, flexibility, and features like a dedicated server at an affordable cost. 
You can upgrade/downgrade the VPS resources easily.
You can start with limited resources and gradually upgrade according to your requirements.
Managed VPS Hosting 
All the core tasks of your server such as updating, OS, software updates and security, are managed by the web hosting service provider with the managed VPS hosting. 
The managed VPS hosting lets you focus on your core business instead of worrying about the server management task. 
If you are not a techie or expert and don't have a dedicated IT team, a managed service plan is the best option for you.
Powerful Features of MilesWeb's Managed VPS Hosting 
SSH and Root Access 
SSH access is an administrative level log in for a Virtual Private Server(VPS).
MilesWeb provides full root SSH access with their Linux VPS hosting plans. With the SSH and Root access, you get complete control over your Virtual Private Server environment.
Host Unlimited Websites 
MilesWeb allows you to host all your websites under the same VPS hosting account.
It means you can host and manage multiple sites from your single virtual private server. 
Solid-State Drives 
The VPS servers of MilesWeb have built-in SSD-based drives for high performance and reliability. 
The SSD drives are fast and durable. It uses flash technology that helps in improving the page loading speed of a website. The SSD drives deliver better performance as compared to traditional HDD drives.  
Robust Infrastructure 
The VPS hosting infrastructure of MilesWeb is built in collaboration with the top players in the industry like Cisco, Dell, Supermicro and HP. 
They have cutting-edge servers that give you the best uptime and stability.
Data Center Location 
The data center location affects the data delivery speed of websites.  
MilesWeb has data centers in six locations across the globe, the USA, UK, Canada, Australia, Singapore and India. 
To get the best performance for your website, you can choose the data center nearest to your target audience.
How is Their Customer Support?  
Customer support is a crucial aspect you need to consider before picking a good web host. 
Say, for example, If there is some technical issue with your hosting, you need to contact someone via email or phone to get your issue fixed instantly.  
MilesWeb is outstanding when it comes to its customer support. 
Their support team is active on email or live chat 24/7. 
Regardless of your situation, MilesWeb's support team is ready to resolve your issue at the earliest. 
Overall, I can say that their support is responsive and helpful. 
Uptime Guarantee 99.99%
Uptime guarantee has a huge effect on the performance of your site. 
MilesWeb offers an uptime guarantee of 99.99% with their cheap VPS hosting plans. They ensure your site is up and accessible to all users 24/7. 
MilesWeb's uptime guarantee is the best in the industry. 
MilesWeb Review: VPS Hosting Plans & Pricing 
MilesWeb has six plans for their VPS hosting, which you can choose according to your budget and requirements. 
The VPS hosting plans are V1, V2, V3, V4, V5 and V6.
MilesWeb offers competitive prices for their VPS hosting plans in the market. 
Their basic plan of VPS hosting is V1 which starts at Rs.630/mo.
If you check out their high-tier plan, V6, it costs Rs.6,060/mo.
On top of this, even the cheapest VPS hosting plan comes with a  generous amount of resources to streamline your hosting experience.
You get an excellent value for money which is why you can never go wrong with MilesWeb. You also get a 25% discount on all their VPS hosting plans.
Summary
If you are looking for a reliable and fastest VPS hosting provider, MilesWeb is the best option for you. 
Their speed, performance and pricing are quite impressive.
Also, with their VPS hosting plans, you get an SSD-based VPS server, 99.99% uptime, 100% free human support and an India-based data center in Mumbai. MilesWeb offers all the features that your growing website needs.