How to Choose Educational PowerPoint Templates: 8 Premium Templates Inside
Maintaining attention is a difficult task, especially when it comes to schoolchildren and students who are not always enthusiastic about the need to absorb new knowledge. However, you can create interest in the material by using cool presentation templates!
The MasterBundles team of designers decided to help everyone involved in the learning process and put together an informative article. It will tell readers how to choose the most attractive template, what are the tips for improving them, and what ready-made slide bundles can be used. And if the collected options are not enough, then you can always go to the marketplace and find more suitable variants!
KeyPoints When Picking Educational PowerPoint Templates
So, let's imagine that you are looking for presentation ppt templates that would be the best way to format information prepared for students. By what criteria should you make your choice?
Explore customization: The ideal template should have multiple color themes and be highly customizable so that you can use it in different lessons but keep the same style throughout the course.

The number of slides: remember that quality doesn't equal quantity, so if a set contains 100+ slides, chances are it's just one design in different colors. Check all pages to ensure there are enough useful layouts.

Check out the features: as a rule, to create a training presentation, you need to use not only text blocks, pictures, and videos, but also a lot of infographics. Make sure the template has enough handy graphs, charts, and flowcharts.

Remember the context: if the topic of the presentation is somehow strict (medicine, law), then you should not take something bright or neon. But if you are talking about marketing, photography, and fashion, for example, consider colorful or stylish ones. 
By the way, with regards to the last point — thanks to the convenient categorization on the MasterBundles marketplace, you can select the desired tab with templates of a specific topic and quickly select the appropriate set of slides.
How to Improve Educational PowerPoint Template?
If you`ve already chosen an interesting template, but are ready to put in a little effort to make your presentation even more attractive, then you can use professional tips:
use icons (there`re a lot of icon packs on the Internet on various topics, both free and premium);

explore the available fonts of the template and replace them if they seem too pretentious and tire eyes (it's best to take simple ones, such as from the Sans Serif series);

add not only videos and pictures but also GIF files;

remember the visual hierarchy (despite the basic arrangement of blocks, try to focus on headings and main thoughts, and also do not litter the slides with an abundance of text — optimally, enter no more than 50-60 words per page);

selected icons, pictures, videos, and other visual materials should be combined with the color scheme of the template in order to maintain a consistent style.
On the other hand, teachers already have little time to create high-quality presentations, so they can use ready-made full-fledged education PowerPoint templates. Are you ready to explore some great options?
Eight Great Educational PowerPoint Templates
The selection of the best templates includes both monochrome options with a discreet design, as well as bright sets that can attract the attention of students of literally any age category.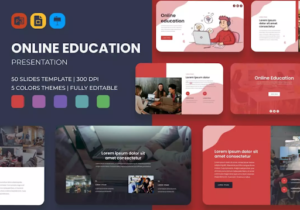 This template is one example of presentations created in a single color. The set contains 50 fairly diverse slides that will allow teachers to present the collected information to students as fully as possible. In addition, the template can be customized with five different colors (red, pink, purple, blue, and green).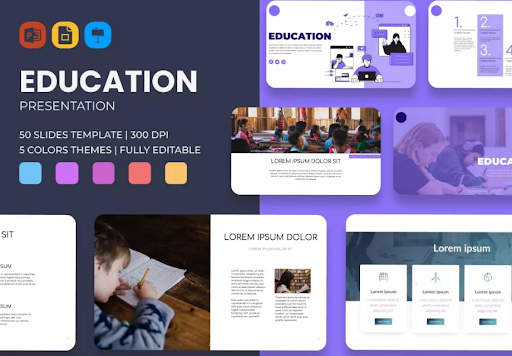 Another modest basic presentation template. It`s somewhat similar in style to the previous one and also has 50 slides, however, all variations of color themes (pink, purple, red, yellow, and blue) are more vibrant and lively. Here you can find both slides with a lot of space and pages for a dense presentation of textual information.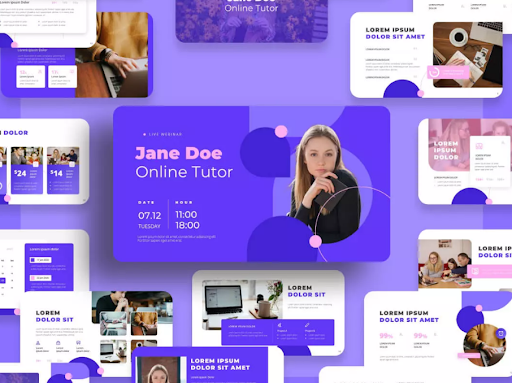 Are you a fan of infographics? If yes, then this twenty-slide template is a good choice. Here, customers can find tons of perfect layouts and diagrams, charts, and graphs to cover various topics with statistics or a lot of numbers — convenient diagrams will make the information more structured.
A mix of bright purple, bubblegum pink, and white is always a good color choice! This template will be handy for those who teach online and cannot directly follow the attention of students. Colorful design, good structure, and a lot of accents will make you forget about dissipating the concentration of students.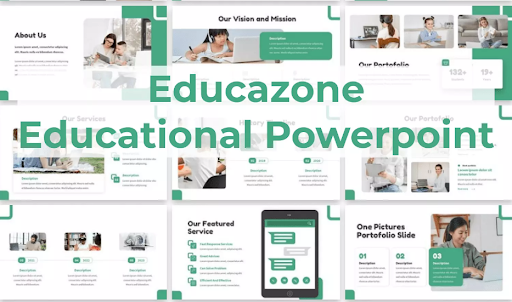 A bright and spacious template for various topics in studying — of course, we are talking about Educazone! A huge variety of slides with designs for any purpose (regular college lesson, course overview at the university, presentation of the training program, and so on). The template is highly customizable, like most bundles on this marketplace, and has five color palettes. 
This template can also be called attractive and interesting. The combination of green, blue, pink, and yellow looks very good, and the number of objects is enough for a complete presentation of a variety of educational material.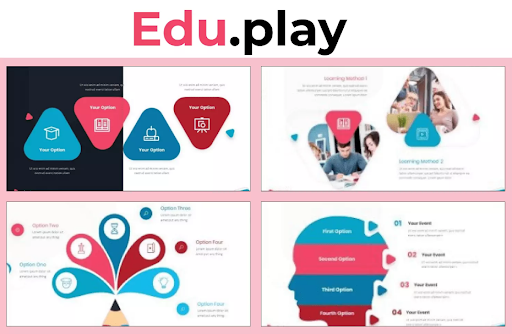 The Eduplay Smart template looks very juicy thanks to a successful mix of shades and high contrast. It`s ideal not only for conducting lessons for young and middle-aged children but also for presentations of various educational programs and games.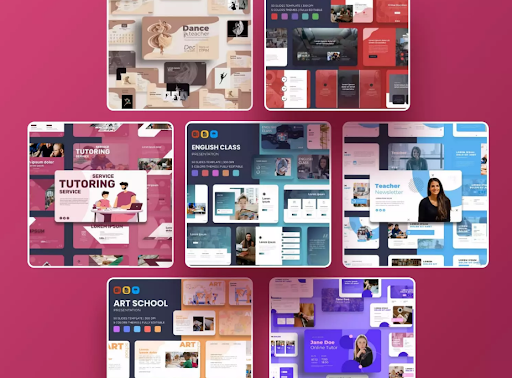 If you know that you will not have to do a presentation once or twice, but constantly work on creating stylish and attractive pages, then it's better to choose a set of templates. For example, this bundle has over 400 slides for literally every taste!