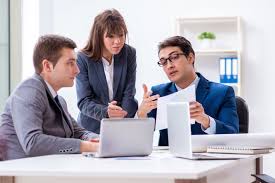 After the summer holidays, there are usually hard months of work. It is practically the last pull until the end of the year, at which time it will be necessary to take stock and measure whether the objectives have been achieved.
At this point in the year, you have no choice but to improve your productivity, be more efficient in your work and optimize your tasks to the maximum. That is why I think it is necessary to know the best tools for this type of objective.
We have already tried all these tools that I am going to mention on our computer, and they have been especially useful on a day-to-day basis because they save us a lot of time. I hope it will be useful to you too!
List of management tools for teamwork
This list of tools is not only for managing marketing projects. Whatever the area of ​​work in which you work, they will help you improve and make teamwork profitable, in tasks ranging from process automation to managing team meetings.
These tools are key to increasing productivity, optimizing your time and being more effective when doing all kinds of tasks at work; from a 
massive sending of emails
  to an advertising campaign (in the case of marketing) 
.
Management and productivity tools
If you want to optimize your time to achieve everything you set out to do, I recommend that you take a look at the best productivity tools that you should always have on hand during your working day.
In general terms, all of them are used to manage tasks, time, resources and have the reporting and monitoring function, as well as a notification system to establish good communication with your team.
In addition to Google Drive or Evernote, there are other top tools for this purpose:
HubPlanner

float

Paymo

Forecast

Synergist
A tool that I would like to highlight is 
Productive.io
 , which is responsible for managing resources in a complete way to direct the members of a team or agency. It integrates functions not only to control the flow of each employee and sales, but also to manage the accounting and billing of the company.
➽ 
 Planning tools
Planning tools are used to organize yourself in an orderly and coherent way. So here we can also talk about those that help us organize our ideas, such as the  tools to design an editorial calendar.
As for the planning tools that I have tried, they are:
Resource Guru

Podium

pose

BaseCamp

Trello
Monday
 is one of my favorite tools for planning. It is very intuitive and at a glance I can find everything I need; pending tasks, projects, missions, view the status of a project or task, task planning or assign a colleague a job.
➽ 
 Tools to work online or in the cloud
The tools to work in the cloud are those that you can use from anywhere and without needing a computer; it would be enough to have a mobile device and the Internet. In fact, these tools make it easier for us to organize ourselves and be more productive without having to be in the office or in the workplace.
These are the ones I find most effective:
OpenProject

drop box

Dataprius

Azendoo

SharePoint
Wrike
 is my go-to tool for working online. Its main advantage is that it is not necessary to save the information on any hard drive or USB, and it is not necessary to download anything to your computer. Another advantage is that it is very good for team management, as we can all connect to the same projects.
➽ 
 Tools to create content as a team
With these content tools I mean all those that make it easier for us to generate all kinds of content, both visual and text, on social networks, blogs, websites or even to spread interesting content to your audience.
But specifically, the content tools that I use the most are the design tools:
Picktochart

Canvas

be funky

Make a GIF

Slide.ly
If I have to stay with a tool to create impressive visual content and improve my productivity when creating designs, it is 
Visme
 ,
  which also stands out for its variety of pre-designed templates, its precise statistics and its form function to capture leads.
➽ 
 Automation tools
Automation tools are focused on carrying out digital marketing strategies efficiently and quickly. One of the functions of this type of software that integrates everything in one is to offer your potential customers personalized and relevant content to capture leads and convert them into real customers (one of these actions is sending personalized emails). 
This is a profitable investment for most businesses that run it properly, as it is a huge time saver. So do not hesitate to try some of the ones I recommend: 
Hub Spot

marketeto

Oracle

Lead Pages

SharpSpring
My favorites are  
LeadPages
 and  
Leads Bridge
 . The latter because 
 from only $29 per month it allows me to use 10 Facebook Ads accounts, use the pixel Enhancer and activate the Custom Audience Sync option, ideal for remarketing campaigns. In addition to this lead sync feature, the platform lets me send emails without leaving the platform; something that works very well to attract users with valuable content for free.
CONCLUSION:
I hope that all this list of tools has opened your eyes, and helps you to take a break and reflect on how you manage yourself with your team on a daily basis. You already know that time is money, and it is up to you to optimize your time to be more efficient and productive.