The fashion sector has adapted to the demands of a new consumption model. Having a digital presence is essential. Discover the tips to increase the sales of an online shoe store.
Online sales and e-commerce have been gaining prominence in consumer purchasing habits. Statista shows us that in 2020 the number of "digital shoppers" globally was more than 2,000 million people , and the trend in recent years is upward. In the retail sector, sales through e-commerce already account for 14.1% of the total, and it is expected that by 2023 it will reach 22%. Not insignificant figures.
The online fashion and footwear sector has realized the paradigm shift, and is one of the sectors that has best adapted to online store strategies . Despite the negative impact of Covid-19 on sales, in the US, e-commerce has been the channel of choice for 30% of purchases in the fashion sector in 2020 . A third of the total, and promises to continue to increase in the coming years. 
How digital channels favor the sale of shoes online and the retail sector in general
Internet fashion is not just about walking in, searching, buying and leaving. Is much more. It is a highly specialized sector and around it a large community of fashion enthusiasts has been generated , who generate content through blogs, podcasts and social networks, especially Instagram. In this network we find great influencers such as Amina Muaddi , a shoe designer with more than 800,000 followers, or Katy Perry herself, a pop star who has her own online shoe store De Ella. There are even such specialized media as Sole Collector , dedicated to talking exclusively about sneakers. 
The result of this movement is that consumers have a much greater knowledge of the sector when buying shoes online . They follow the latest news and trends and can even look at the creative process of brands, inspirations and references. There is a greater connection between the brand and the user , which we must take care of and take advantage of. 
In addition, a phenomenon is taking place among millennials and it is the rebound in the consumption of luxury brands: Gucci or Louis Vuitton have become extremely popular in the 18-34 age group. This is possible thanks to the change of big brands in their communication . The popes of fashion viewed digital communication channels with reluctance, thinking that they were losing exclusivity. For this reason, they have not exploited the potential of networks in their marketing strategies for shoe stores . But they have realized that they cannot fight against the future, and that integrating these channels into their communication allows them to connect with young audiences, share their philosophy and values ​​and create engagement with followers while promoting their products. They have taken a 360º Marketing turn with good results. 
Thus, the reality for online shoe stores is that they must optimize their digital sales process to survive. The phygital aspect is key: physical treatment and interaction with customers must not be neglected, but knowing how to combine it with an attractive web platform and simple and effective e-commerce , with which your public can buy anywhere and from anywhere. any device. 
Why is an e-commerce strategy essential in this sector? 
The goal of an online store is sales . We must visualize it from minute one and keep in mind at all times the characteristics that the project must follow: be a usable page, oriented to conversion and optimized for search engines . Three essential slogans in any e-commerce project .
Optimizing the content and layout of the page will help make our site more attractive, compelling and easier to visit. Following a strategy can help you achieve great results with a small investment : services that make it easier for the customer to purchase, especially not charging for shipping, facilitating returns in case of not being satisfied and an online tool to measure the foot and ensure buying the perfect size shoe may be one of them. Nor can we forget about cross-selling in this sense, which will help increase the chances of purchase.
But better if you bet on a winning horse by putting into practice the following tips that will help you optimize your e-commerce . Let's go there!
Tips
 to increase shoe sales with your digital strategy
The visual identity . Design on a web page about fashion is very important. Fashion enters through the eyes: invest in finding your own visual stamp , a powerful logo, a consistent color palette and apply all this to a simple and intuitive interface. To connect with your audience, you should also pay attention to the visual trends of the moment, which have a great weight on social networks: from TikTok challenges to trends that drive influencers and spread through their followers. An example is Quanticlo showing off its products with a photoshoot in a garage. 

Brand values . Today more than ever, brands are distinguished by their philosophy. Also the shoe websites . Define very well what your principles are and try to ensure that they are aligned with those of your target audience. Caring for the environment, equality or local shopping are issues that are especially valued by the youngest. Many times the best way to communicate the value proposition is through the video format , which many brands bet on to publicize their new creations or Fashion Films to connect even more with the user. 

The language . The way you use to address your audience is decisive. Make it suitable for each occasion and in each format: newsletter, social networks, description of your products, etc. And about the description of products , there are no rules anymore. Brands are betting on increasingly original names that evoke cities, moods, references to pop culture… The make-up sector is the best example. Jefree Star Cosmetics has named their eyeshadow palette "Orgy", and each shade has a bold name.

Testimonials, recommendations and opinions . They are a springboard for more people to know you. If shoppers show a positive shoe buying experience , ability to return or exchange, fast delivery, or good customer service, visitors are more likely to become buyers.

Specialized press . Any shoe store should create a database with the contact of the media that most interests you according to your product. In the fashion and shoe sector there is a wide range of specialized magazines and sections within general media. Use that database for regular mailings, report news, build relationships with journalists and get more visibility for your brand.

Usability . If the user does not have a good experience, they will not recommend your website when buying shoes. And a negative word of mouth can become the worst of your enemies. Make their stay on your website simple and without obstacles, slow loading and no other problem. And of course, take care that your platform is responsive and can be accessed from mobile.

Images . In fashion 'a picture is worth a thousand words'. And if you neglect them, your users may not find your products attractive, leave your page and go elsewhere. Use images in an optimal format and take care that they do not slow down the page loading process. Do not forget to name the images using the most appropriate keywords and add a short description.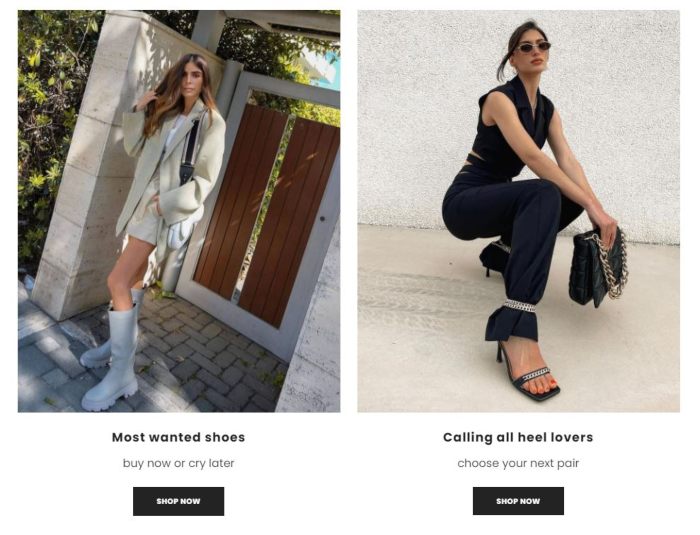 Landing Pages (LP). Landing pages are key in the purchase process because it redirects the buyer to the specific objective. A clear landing page with a nice design will make your buyers feel that they are in the right place to make their purchase. In addition, the LP are also used for specific campaigns and offers and promotions with which to attract the consumer. 

SEO . Keywords are very important. Use them in texts, pages, images, product descriptions, posts, news in different sizes, bold, etc. With Google Trends and Google Analytics you have very powerful tools to find these words.

Links . Quantity does not matter as much as quality. Link to the right pages with notoriety and to different sections of your own page and you will create a network that will connect your site with others, so that Google will consider you more.

Social Networks . Find out where your target audience is and make yourself present on those social networks. In this way you will reach them in a faster and cheaper way and you make sure you 'talk' to people interested in your product. Use the networks organically and also as an advertising channel , with well-segmented Ads that reach new followers and allow you to carry out Social Selling .

Analysis . With Google Analytics you can know perfectly the behavior of your audience. Observe where you fail and put a solution . Both on your page and in the RRSS, behavioral analysis can lead to success or failure.

Customer service . Facilitating the payment method, the return of the product or meeting delivery deadlines is the best policy to gain the trust of customers. Maintain correct and efficient customer service from any field (web, email, chatbots, social networks, telephone service…) and you will have a lot to gain.

influencers . Fashion bloggers and influencers can give your business a key boost. If you have taken into account the previous aspects, you can take the leap and contact them to send them your product: that they know it, value it and share it on their platforms. If the opinions are positive, you will see how your number of followers and subscribers increases. The activity of influencers is highly professional these days, and there is a huge variety of instagrammers and bloggers to choose from. Many are specialized, so it's easy to find a profile that fits your brand philosophy. From vintage and second-hand influencers, others from the world of makeup, stylists, accessories lovers, etc.
As you can see, a web strategy for selling shoes online requires a lot of work and a holistic view of the process, paying attention to every little detail. But we have no doubt that if you follow these tips and mix them with your passion for fashion, your business will gain momentum and achieve the digital success that we covet so much. Let's do it!