Security is essential when surfing the net. And although we cannot be alert to all virtual threats, what we do have responsibility for is securing our passwords. These must be robust, and it is worth relying on programs to generate keys that are almost impossible to crack. If you want to have absolute control, we will tell you how to recover the passwords saved in the browser.
How to generate and save passwords?
Many applications help you with the security of your accounts, since they can generate an encrypted password.
Think that the first thing a cybercriminal will do is try easy passwords such as dates of birth, numbers that may be relevant to the user, easy sequences of letters, etc.
You may also be interested in: How to know if your mobile is infected by Pegasus
Hence the need to, on the one hand, generate new strong passwords and, on the other hand, save them in some way to always remember them.
As we said, there are numerous applications that take care of this job. But some browsers include features that do this too: let's look at the major browsers.
Your passwords, safe in the browser
Recovering the passwords saved in your browser will allow you to work more easily and safely. Choose your favorite browser and see how each one works.
Google Chrome
The Google application is one of the most widespread, especially for its speed and lightness. Many also want it for its security and its encryption and key storage system.
It has many versions depending on the operating system, but in all the path is exactly the same. You will have to go to the Settings section and then to Privacy and security .
From here go to AutoFill and scroll to the bottom where all the sites you've signed up for and what account are listed. You only have to click on the eye icon to reveal the password and save it wherever you want.
Microsoft Edge
Thanks to the use of Chromium to build its browser, Edge has become much more powerful and secure . In fact, it is also easier to use and if you want to recover the passwords that you have saved in it, everything will be very simple.
First of all, go to the Settings section in the menu at the top right. In Profiles you will find the part of the passwords. Choose one of the ones you have saved and copy it.
firefox
Another very famous browser that you can use from your computer or mobile device . The steps here are also very similar: Settings > Security . Doing a little scroll you will find Users and passwords.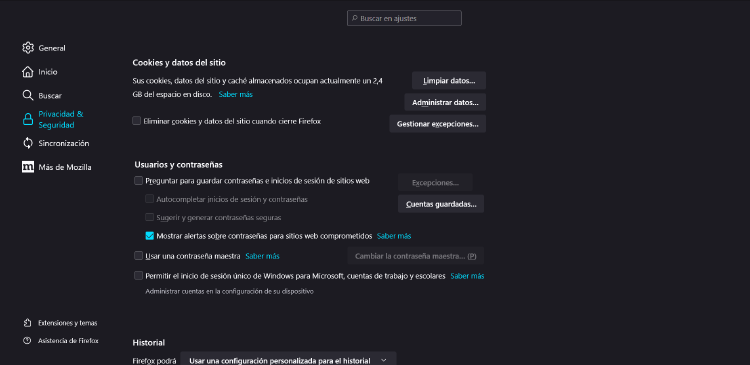 Within Saved passwords you will have access to these to save the ones you prefer.
Safari
Of course, Apple's browser also includes saved passwords in its settings, specifically within Settings . Of course, remember that to access this section you must use your administrator password .
The same thing happens from the iOS app , where the path is exactly the same but you will have to use TouchID to reveal the keys you have saved.