Are your SaaS digital marketing strategies not achieving the results you expected?
Selling software as a service is not an easy task, that is why companies in this industry have started looking for marketing strategies that work best to market these types of products.
SaaS marketing, as the type of marketing implemented by companies that sell software as a service has been called , has begun to become popular among companies in the technology and software industry. 
But before investing a single dollar in your strategies, the first thing you should do is create a SaaS digital marketing plan so that you define your objectives, strategies, action plans and the budget to finance all your SaaS digital marketing actions .
What is a digital marketing plan
A SaaS digital marketing plan is a written and structured document that specifies the strategies, tactics and actions to achieve the objectives that have been defined in the company.
This document details the tools, the budget and the schedule that must be carried out so that no action is left out.
What we must be clear about is that the digital marketing plan for your SaaS company should not be something improvised in any way.
For this plan to be successful, the marketing objectives must be aligned with the company's sales objectives, in this way, all the actions that are carried out will impact the growth of your company.
How to make a SaaS digital marketing plan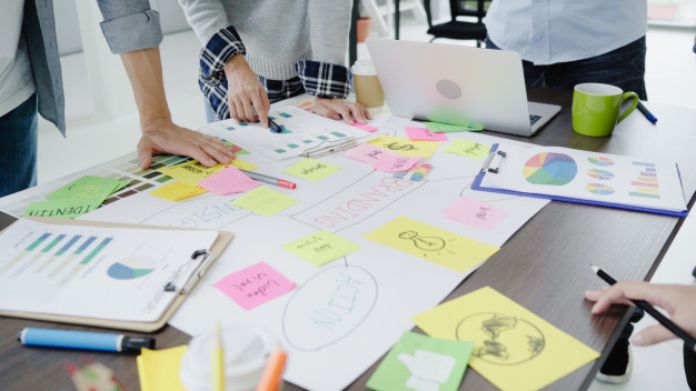 Now that you know exactly what a digital marketing plan is, and the importance of it being aligned with your sales objectives, we are going to explain how to do it in 7 steps.
1. Define the goals of your SaaS marketing plan
The first step in your digital marketing plan will be to define the objectives that you need to achieve in a given time. The marketing objectives must be defined throughout a year, and divided into quarterly objectives.
A recommendation to define the objectives of your digital marketing plan is that you do it with the SMART methodology, each letter of this acronym stands for: Specific (S), Measurable (M), Achievable (A), Relevant (R), With a definite time (T).
Some examples of objectives that you can define in your SaaS digital marketing plan are:
Introduce the software to a target audience

Increase market share

Release a new version of the software

Expand into new international markets

Attract new customers

Optimize the conversion funnel

Customer loyalty

Increase sales
2. Define your ideal client
Defining the ideal client for your software is one of the most important steps when making a digital marketing plan for your SaaS company. Unfortunately, most marketers tend to take this step lightly or ignore it.
To define your ideal client, we recommend using the buyer persona methodology. Let's see what it is about next.
Buyer personas are a semi-real representation of your ideal client based on real data and information from your current clients. 
The buyer persona methodology is used to better understand your ideal clients in order to develop more effective strategies, taking into account some characteristics of our clients, such as:
demographic profile

Behaviour

Specific needs and problems
Identifying the ideal customer for your software will allow you to define marketing strategies with great precision, saving time and money on actions that would have no impact if you targeted everyone.
3. Align your marketing and sales teams
How many times have you heard "it is the marketing team that must generate better sales opportunities"? Or how about this other one? "It's the sales team that should follow up on sales opportunities to close more deals."
The eternal dispute between marketing and sales teams still exists no matter the size of the company or the industry you are in.
Aligning your marketing and sales teams under the same objectives will help sales results materialize more effectively. 
The concept to align the marketing and sales teams is called Smarketing, which comes from the union of Sales + Marketing. 
Some tips to align marketing and sales in your software company:
The sales goal is the responsibility of both teams

Define measurable goals for each department

Implement a service level agreement ( 

SLA

 ) 

Both teams must develop the buyer personas of the strategy

Invest in technology so that both teams work together (CRM)
Achieving this implies a change in the mindset of the people in your teams. At first it may seem difficult and complicated, but it is not impossible, and the results are worth it. In the end everyone wins!
4. Define your SaaS marketing channels
Every day there are more Digital Marketing channels that arise through which we seek to develop and implement digital strategies to achieve the objectives. 
Here are some channels for your SaaS digital strategy:
Here are some channels for your SaaS digital strategy:
Social networks

email marketing

Website

Search engines

SEM

display advertising

Digital sales channels
Having your digital channels defined will allow you to invest in the right strategies to achieve omnichannel and reach your ideal customer in a more profitable way.
5. Digital Marketing Strategy for SaaS
Now is the time to choose the strategy that will help you achieve the goals of your SaaS digital marketing plan. This step answers the how of your plan.
Selling software as a service is not easy, since when dealing with the sale of an intangible, customers feel somewhat skeptical about having to pay for something that they cannot physically feel. 
Your customers need context about your product. In other words, before learning about your software, people need:
discover that they have a problem,

understand that they must solve that problem,

know the solution,

discover your product,

and finally buy it. 
To win over the ideal client of your software company, you need a strategy that is easily coupled to the purchase journey of your clients. 
Inbound marketing as the best strategy for software companies
The digital marketing strategy that fits the way your customers buy software today is called inbound marketing. How? And what is inbound?
Inbound marketing is a methodology that uses and meshes different digital marketing techniques so that a software company can:
attract strangers from the internet

educate them about the problem and the solution

Teach them your software as the best alternative

and finally push the purchase
Sounds great right? This is how inbound marketing works.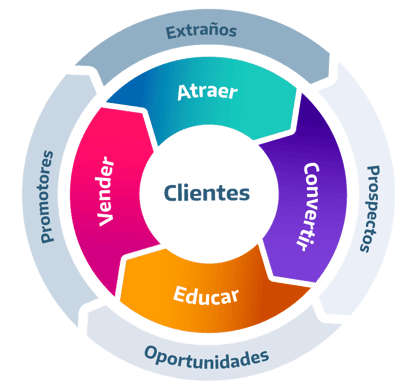 Software companies that implement an inbound marketing strategy achieve faster and more sustained growth compared to their competitors that continue to implement intrusive marketing tactics.
6. Allocate the budget for your SaaS Marketing plan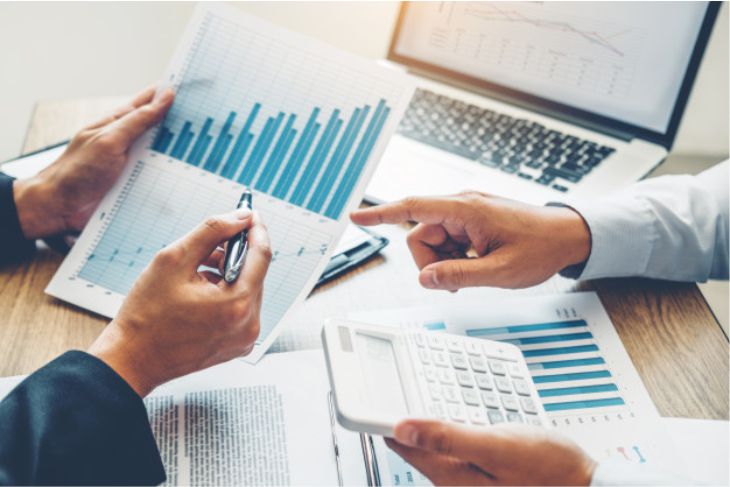 Now that you have your strategy defined, it is time to calculate how much budget you need to implement it in your software company.
For this, we will take into account the objectives of the marketing plan.
For example, if you are looking to increase sales, we recommend investing between 10% and 30% of the growth in sales.
Suppose you have an ARR of USD $1,000,000 and your goal is to achieve an ARR of USD $1,500,000 in the next 12 months, and you want to invest 10% on that growth. 
Then you would calculate the budget for your SaaS digital marketing plan based on additional billing, that is:
Additional ARR: $500,000 *0.10 = $50,000
Doing digital marketing is cheaper than doing it in traditional media, but nobody said it was free. Execute the strategies of your digital marketing plan that will help you grow in sales, they cost money, and here you must take into account:
The company's marketing team

The budget for online advertising

And the marketing tools to be used
You must keep in mind all the variables so that all the actions within your digital marketing plan have a defined budget, and thus, you can develop your strategies without problems.
7. Document your SaaS digital marketing plan
Finally, one of the last steps is to document your entire digital marketing plan . It is important that this document is always available for any decision made with the team.
Documenting your marketing plan will prevent you from taking pointless initiatives that sidetrack you from your goals. Any strategy or initiative must be documented in your plan.
In the digital world and in the software industry everything changes very quickly, companies must move at the same speed and be flexible in the face of any change that the strategy requires.
For this reason, your digital marketing plan is not something that should be written in stone either, it can undergo modifications that respond to the different changes in the strategy to achieve the objectives.
Conclusions
Developing the digital marketing plan in your SaaS company will be decisive to achieve the objectives that you intend to achieve in your software companies. Remember that it is very important to take into account the strategic objectives of the company so that the results of your strategies have a positive impact on the business objectives.