How to create an online store with WordPress
Very good! I already come with the batteries charged for a new article, I want to tell you how to create an online store with WordPress . We are in full confinement and I think it is a good time for you to launch your own ecommerce.
I know that you have been thinking about how to create an online store in WordPress for some time. You may think that to open an ecommerce you need technical knowledge.
But what if I told you that you only need a plugin to make this possible?
Let's go there!
What am I going to tell you in this article ?
I'm going to assume you already have WordPress installed, but if not, I have a very detailed guide on how to create a blog in WordPress .
How to create a free online store with WordPress and Woocommerce

Fantastic, great, wonderful! It is becoming easier to start and create our own online businesses. And all thanks to a simple but very powerful plugin.
Woocommerce is a free plugin that allows you to have a shop on your WordPress site.
And you know the good?
It is not necessary to have much knowledge to use it, it is very easy and intuitive.
I discovered Woocommerce in 2014, and it was hardly widespread. In those days, the kings were Prestashop and Magento, real monsters to create online stores.
I'm not going to lie to you, in these 6 years of experience I've thought infinite times about switching to Prestashop or Shopify , but today it's not a joke. Woocommerce has evolved tremendously, and we can easily have a very professional store.
Advantages and disadvantages of creating an online store with Woocommerce
Throughout my online journey I have had enough time to get to know Woocommerce thoroughly, and even so, I still have time to go.
Advantages of WooCommerce
It's free : you can download it from the official website or from the WordPress repository.
Easy to use – no technical knowledge is required to operate the store.
Modern – There are more and more very modern and ecommerce looking Woocommerce templates out there.
Extensions : There are a large number of extensions to improve the operation of the store.
Disadvantages of WooCommerce
Size : as time passes, the compressed file occupies more, currently it has a weight of 7.6MB version 4.0.
Slowness : Woocommerce is not slow, but it is true that it is not as light as other platforms. A good optimization of the web will make everything go more smoothly.
Price of extensions : Official extensions cost a fortune compared to third-party extensions.
Features: It is true that there are more and more plugins that add features to Woocommerce to boost sales, but I still think it needs to improve.
I have read in many blogs that they comment that Woocommerce is for stores with few products . Personally I disagree, as I have had a store of 1500 products and I have not had any problems.
Having this clear, we are going to see how to install Woocommerce to have an online store in WordPress.
How to install the online store in WordPress
At this point and knowing what Woocommerce is, I'm going to teach you how to install it. There is no mystery, they are the same steps as installing a normal plugin.
You have two options, install it from the WordPress repository or from the official page.
Install Woocommerce from the official page
To install Woocommerce in this way you will have to go to Woocommerce.com and create an account. Then you can download the .zip file with Woocommerce and upload it to your website. Once uploaded to WordPress, the screen for its initial configuration will appear.
Install Woocommerce from WordPress repository
This installation is the easiest and fastest, you will only have to go to:
Plugins >add new> Poner "Woocommerce" in the browser > install> activate

Once found, you can install it now and you will be closer to having your online store in WordPress completely free.
Woocommerce setup after installation
Once installed you will see a presentation screen to configure the store. This configuration is the basic one to start with, but it is still not lossy.
New Woocommerce setup wizard (Updated)
I am updating this guide from time to time because they are adding new things in the configuration and thus you have no loss in the installation of Woocommerce.
Let's see it!
Well, this would be the next screen for the store installation.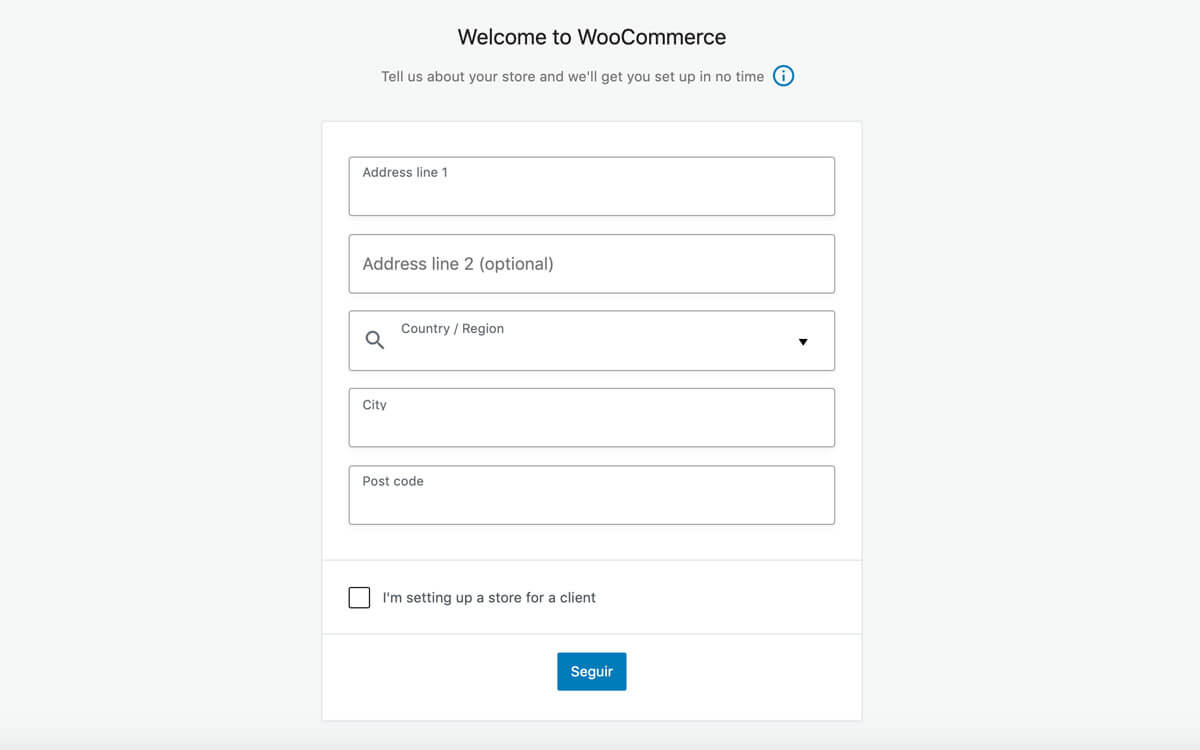 At the end of the form you will see that it says if you are creating the store for a client, I imagine that if you are reading this tutorial it is that it is for you…
Once you fill in the data, the following message will appear:
This message basically tells you if you want to contribute to sharing (non-personal) data with the platform to improve future Wooocommerce updates. This is already totally optional.
Once you have accepted or not the following screen will appear.
In case your sector does not appear, do not worry, you click on another one and that's it. Click continue and go to the next screen.
As you can see it asks you:
Physical products (if your store will sell physical products)
Downloads (your store will sell digital products that have to be downloaded)
Subscriptions – $199.00 per year (in case you want a subscription store it is a premium plugin)
Membership – $199.00 per year (to have a store with restricted content or products)
Reservations – $249.00 a year (for stores that need to create reservations, interviews, etc.)
Bundles – $49 a year (Offers custom product bundles, volume discounts, etc.)
Customizable Products – $49 per year (you can customize products, such as whether you want them to be wrapped or assign special options)
As you can see the complementary plugins are worth a kidney , since they are the official ones of Woocommerce. You can find cheaper plugins in Yith that are the vast majority that I use for my projects and clients.
In my case I am going to choose physical products, in case your case is different you can click on the option you want, you will only have to pay for the plugin and it will be installed together with the configuration.

On this screen you will see that you will have several options to choose from:
How many products do you sell?
And if you are currently selling somewhere else
Click on the options that you think are necessary, I don't think this is relevant for you, but for Woocommerce.
In the event that you select that you do not currently sell products, 3 options will appear to configure the store.
Facebook – Sell through this social network
Mailchimp – Being able to send newsletters to your customers
Creative.mail – Same as above.
Google Shopping – To use Google Ads.
If it is the case that you are going to use one of these services, you will only have to activate and that's it.
We continue!

As you can see, here it tells us which theme to choose to finish creating the online store. It gives you the option to stick with the one you have, paid themes or free themes.
Here I recommend that you choose the one you have by default and you will install one in the future when you have decided.
With this step completed you will have your store created.
It is true that once you have the online store ready in WordPress you will have to learn how to manage it.
This is something that I have pending, but while I leave you this tutorial on how to add new products to Woocommerce , it will surely help you to practice.
As you can see , it is not complicated to pre-configure the store in WordPress with Woocommerce , but if you need help, you already know that you can write me in the comments and I will be happy to help you.
And so far the mini tutorial to create an online store in WordPress, in the next articles I will talk in more depth so that you know it better.