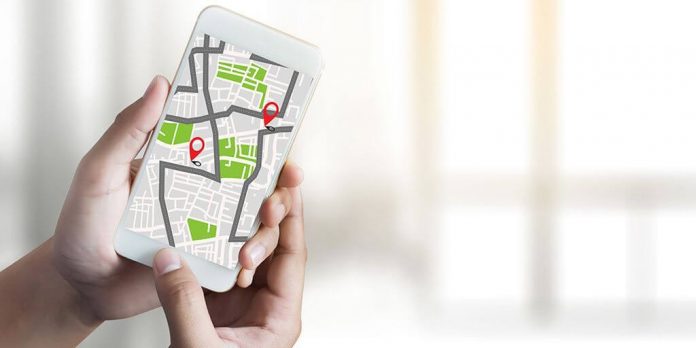 Google geolocation is the most suitable method to make your company visible. Thousands of potential customers are near you and search for businesses on Google Maps. This tool has become a major weapon for local SEO.
Nowadays, mobile devices have become a member of our body. No one goes out without their tablet or smartphone. What's more, if you take a look around, you'll see that everyone is looking at their mobile. It doesn't matter where they are.
These people demand information, which they want here and now. They look for a place to have a coffee, a shop where they can buy a sweater or the nearest cinema. If you don't appear on Google maps you are simply invisible.
In this article we help you understand how important it is for your business to appear in Google Maps searches.
What is Google geolocation?
Google Geolocation is the global location system used by the American giant through satellites. With your mobile device they will know your exact location, on a map and in real time.
We are used to the GPS of the car. With Google, locating a place, an address or an establishment works the same way.
Google uses this system with some of its applications such as Google My Business and Google Maps and Google maps are the most widely used in the world.
The behavior of a population that does not know how to live without a mobile phone has brought with it new forms of marketing. Mobile devices serve both to consult and to indicate to the client where the closest service requested is located.
The smartphone has become the channel through which we receive the location of the business we want to find and also to show us those that are advertised near the point where we are.
All this is possible thanks to Google geolocation. The work of the GPS will place the business on the map and thus the client will have the information he needs. You will also see those establishments that are within the area in which the client is located.
This tracking and mapping system has enabled a new way of advertising. Local SEO has found a very powerful weapon to attract users whose location allows the business to be promoted to be displayed on the screen.
When to use Google geolocation?
Google geolocation offers many utilities. This GPS tracking system can be used to share your location with your contacts or communicate a route along which you are traveling. This means that, through your position on Google maps, you can meet friends or clients with total accuracy.
Imagine, as a company, what this means. A lot of people gather in one place. To this you have to add those who passed by, those who are specifically looking for you, those who want to find a business of your characteristics… In the end, many potential customers.
As you will see, it is the perfect instrument for your business to stand out locally. That is, so that users who are closest to you can find you and, believe me, hundreds of people pass by your door or around your business every day.
Types of businesses for which it is useful
It goes without saying that large surfaces have appeared on Google Maps since its inception. This implies excellent positioning in searches.
It is necessary to raise awareness among small and medium businesses. They have a huge ally in local SEO to increase their sales. To do this, they must see Google's geolocation as a great showcase. It's very simple; if they don't appear, they don't exist.
Even when a user searches for the location of a department store, businesses that are close to the search will appear on the map. Quite simply, SMEs cannot miss the opportunity to take advantage of a tool that gives them greater visibility.
Optimal businesses for Google Maps:
Medical and aesthetic clinics.

Mechanical workshops and technical services.

Bars and restaurants.

Hairdressers and beauty salons.

Clothes, shoes and accessories stores.

Colleges and teaching academies.

Language Schools.

spare parts

Liberal professionals: lawyers, doctors, architects…

Design studios.

Media.

Travel and transport agencies.

Public and private transport.

digital agencies.

Veterinary clinics and pet services…
Any business has its place on Google maps. Remember that Google geolocation also allows you to show your URL, exact address, contact, how to get there, if it is better to take public transport or walk…
Disadvantages of Google geolocation
The most used formula to appear on Google Maps and other Google applications for companies is Google My Business . This tool is the one that will put your business into orbit.
But not everything is a bed of roses. There are also some disadvantages when using Google geolocation services:
You must closely monitor the negative comments made by users.
It is very laborious to get the business to appear in the first search positions.
A lot of work is needed for growth to be reasonable.
It is necessary to refine a lot with the keywords or keywords.
Google+ is not one of the most used social networks by users.
Conclusion:
Google geolocation allows the use of extraordinary marketing tools at the local level. Google makes applications such as Google My Business, which uses Google maps, available to businesses.
These instruments allow you to place your business on Google Maps and show your location to mobile device users. Those people who are closest to you will be able to see you on the map and in real time. They automatically become a potential customer.
It is undeniable that Google geolocation has some disadvantages, which can be remedied with the help of marketing professionals. But its advantages far outweigh its disadvantages.