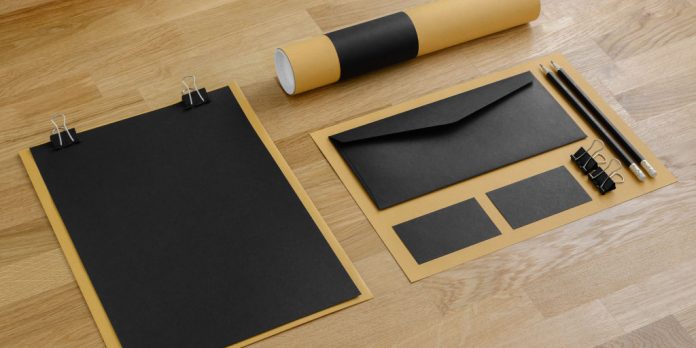 Corporate stationery is a powerful marketing tool that allows the essence of the brand to be transmitted to potential customers, so that they quickly associate and identify it.
Therefore, conveying your brand identity through certain elements of corporate stationery will not only be beneficial to help your customers contact you, but it will also be a letter of introduction to your company and responsible for making first impressions.
As you can see, the image of your brand is at stake and, therefore, special attention must be paid to the design of corporate stationery and printing. Therefore, having a quality and trustworthy online printing company will be key to your strategy. So you should consider stationery as a perfect ally in your marketing strategy to convey a corporate identity aligned with your values ​​and philosophy.
What is corporate stationery?
We understand by corporate stationery those elements in which the corporate identity of a brand is reflected, used by a company to communicate or carry out marketing actions.
In other words, it is the physical expression of the brand through elements such as an envelope, a business card or a pad.
In the next section we will see, in addition to these, what other basic and pointer elements constitute the corporate stationery for you to take note of 😉
First, we want to make one thing clear. Although there is no criteria to properly choose a corporate stationery for your company, there are some requirements to follow, such as:
Harmony between logo, colors and typography.

Format adaptable to different sizes (adaptable for both a poster and a business card).

Provide personality to the company.

Complement to achieve a good brand image.
Basic elements of corporate stationery
A simple corporate envelope or notepad can mean much more than you think. Any company communicates and any stationery item is key to physically reflecting that brand image.
Let's see what are those leading elements that we have:
Notepads and notebooks
Using personalized notebooks and pads for, for example, a meeting with a potential client can be the trigger that drives this client to close the deal. You will give a good image of your company and you will generate confidence and professionalism.
business cards
Business cards are essential for networking, creating contacts and telling the world who you are and where they can find or contact you.
Take care of your design because it will depend on this to give a more or less professional image.
folders
Imagine that you have to present a project or briefing, and you have to deliver it physically. Using a corporate folder is not the same as using another from the heap. This will mean a plus of quality and solidity to your business.
Another relevant use that you can give it is when you hold an event. You can provide the attendee with information about the event in a corporate folder.
Also, if you are looking for new clients and visit some offices, a corporate folder will give you prestige. In case you are the one preparing the event, it is also ideal to carry a corporate folder to organize your notes, while giving a solid brand image.
There are different types of folders, depending on their use, you can select the one that best suits you:
Die-cut or not die-cut.

According to the number of flaps.

Depending on your closing system.

With or without spine.

Others such as cuts for business cards, with fingernails, laminated…
Envelopes
Many companies have to send envelopes to their customers and other contacts on a daily basis. And the fact of personalizing the envelopes and giving them personality with different sizes or designs (with or without a window, with your company logo, with your corporate color…), will mean a lot:
It will help recipients distinguish whether it is an informational or more promotional message.
Therefore, the envelopes will help distinguish the type of corporate communication:
Commercial:

 Here you can include from brochures, catalogs or commercial proposals. These usually do not have a window.

Administrative:

 Sending invoices and other administrative documentation. These do have a window.
In addition to deciding which elements to select to physically reflect your brand image, do not forget to take into account other details such as choosing the right quality of materials, the right textures and the preferred mechanism you want.
Having a corporate stationery helps you convey professionalism, seriousness and, without a doubt, makes things easier for you to be closer to your business goals. It is up to you to take care of your brand image and work on your corporate identity so that your audience identifies you in a matter of seconds.