Today it is easier than ever to cross borders thanks to internationalization and the B2B marketplace , as they offer centralized added services on the platform such as logistics, payment services, digital marketing , financial services, among others, which make it easier marketing, lead capture and help products to be exposed internationally.
And it is that, following a B2B digital strategy for your company is essential so that your product is destined for the final consumer. That is why today we will talk about the importance of international B2B sales and the added value they offer. Let's start!
What is a B2B marketplace?
A B2B marketplace connects companies on a single platform, that is, brands, manufacturers, suppliers and wholesalers sell their products and services to other companies. It is considered as a unique business due to its characteristics:
The volume of orders:

 they are excessively large and require minimum order quantities to be able to carry them out; 

wholesale. 

Order flow:

 customers tend to take longer to buy and ask for more detailed information when making the purchase, this helps speed up the next sale and connect the buyer with the seller.

Product prices:

 It is based on the relationship and agreement between the seller and the buyer.
As if this were not enough, there are several types for businesses that are dedicated to selling by B2B.
Vertical B2B Marketplaces:

 they are specialized in a single category of products.

Horizontal B2B marketplaces:

 they sell products and services of different types, meeting the needs of buyers in various sectors.

Local B2B Marketplaces:

 They cater only to their local market.

Global B2B Marketplaces:

 they have no geographical limits.

Marketplace B2B commissions:

 for each order received by a platform seller, they pay a percentage as a commission to the market operators.

B2B Marketplace Subscriptions:

 A method that charges sellers a membership fee so they can use your platform for business.
In addition to everything mentioned, among the multiple benefits offered by B2B sales platforms is the low investment cost, the platform is responsible for the appearance and presentation of the products, this means that the seller will not have to create or develop it; easy setup, just need an account and upload product information to start selling; and reach potential customers, selling on these platforms allows you to reach more customers and strategically choose those products that work best for your business.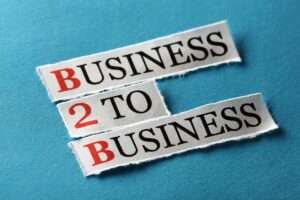 How does a B2B marketplace work?
B2B sellers access the platform dedicated to independent merchants, here they will create an account and upload their product catalog . For their part, buyers who go to the platform can access the product they want and the seller, this decision can be made based on: price, popularity of the seller, speed and cost of delivery, etc.
Subsequently, it is the suppliers who manage the inventory and take care of the shipments, but the packaging and shipping labels are in the name of the distributor. The buyer will receive the product as if it came from the platform on which the order was placed.
It should be noted that B2B sellers are free to set their prices; however, they pay a commission to the distributor for each sale. Once everything is done, these orders are commented on by the buyers, and as a result, sellers have customer reviews and an efficiency rating on their profile.
If we refer to needs that adapt to professionals, we specify that:
They offer more flexible payment methods.

Multiple options for each product. 

Opinions on prices. 

Confidentiality of data on certain products.
The best B2B marketplaces for international sales
A good B2B commercial platform for international sales will have a logistics, payment and financial service, digital marketing and other features focused on the marketplace. These are the best B2B marketplaces.
Ali Baba
Sector: Multi -sector
Geographic scope: Global
Estimated traffic per month: 97,200,000 visitors.
The most important platform of all and the largest in the world, connects exporting companies with importing companies (B2B). It has more than 160 million buying companies and more than 6 million selling companies. Among its main exporters and importers (although it is found in any country) are: China, USA, Russia, United Kingdom, and Germany.
In addition, it has 40 main categories, which in turn are divided into 695 subcategories, in this sense, sellers have a list of their products and buyers can find them more easily.
Another of the peculiarities of this platform is that when the buyer contacts the distributor, he leaves his contact information and begins the offline export negotiation through two channels.
RFQ:

 the buyer publicly makes a request for a quote for those Gold Supplier companies.

Inquiry:

 the buyer searches for suppliers and makes an inquiry to them. The seller must have a Gold Supplier membership to respond to many requests for quotes.
1688.com
Sector: Multisector
Geographic scope: China
Estimated traffic per month: 18.2 million
Strategy: the Chinese market. This platform has more than 120 million users, and more than 10 million stores that cover 49 industries. It offers the alternative of connecting foreign exporters with Chinese retailers. In addition, it is a means to reduce export costs to Japan.
Chinese customers gain an advantage thanks to this marketplace, for example, in the prices of the products, since they are lower, as well as the shipping time, which is also lower.
There are two B2B strategies: through shop windows to display your products or use the transactional platform.
Amazon Business
Sector: Multi -sector
Geographic scope: USA, Canada, UK, Germany, France, Italy, Spain, Japan and India,
Estimated traffic per month: 1,160 million visitors.
It is an additional service for the sellers of the giant Amazon to satisfy the purchasing needs of any company. It has more than 1 million business users and thanks to this platform, you can have access to all Amazon customers, the opportunity to increase sales and reach new customers, from freelancers and SMEs to large global corporations.
Prices can be set differently depending on the company or quantity discounts, in addition to taking advantage of the logistics offered by Amazon and the ability to sell throughout the EU and on other continents.
When a buyer is interested in the product, he will contact the seller and a negotiation will begin, where good agreements can be reached and a long-term business relationship can be created.
SoloStocks
Sector: Multi -sector
Geographic scope: Germany, Spain, France, Italy, Poland, Portugal, Argentina, Brazil, Chile, Colombia, Mexico and Morocco
Estimated traffic per month: more than 5.5 million visits (globally).
Sales portal for leading businesses and professionals in Spain. It has a strong international presence, mainly in Europe and Latin America.
Offer more than 2.5 million products from trusted and verified sellers; more than 50,000 providers; and 6,000 product categories available. On this platform, buyers can contact the seller, locate the product more easily and can get it safely from the platform itself.
In fact, SoloStocks coverage is backed by more than 5,000 daily transactions globally.
Virtual Expo
World leader in online B2B lead generation. This platform has six B2B Marketplaces, each one specialized in a sector: aeronautics, agriculture, architecture and design, industrial, medicine and technology, navigation and maritime, which in total add up to more than 39.5 K exhibitors, 1.6 million distributors, 1.2 million products and 451 K catalogues.
Thanks to this platform, companies and buyers have access to a million specific products in one place and, on the other hand, it has SEO tools and specialized sites in 9 languages ​​that attract millions of online buyers, manufacturers and distributors, allowing to attract customers to the vendors' website.
How it works: a buyer consults the product catalog, sends a quote request and asks for the seller's contact, as well as consult the points of sale.