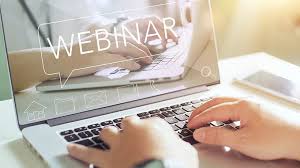 It is important that you keep your webinars interactive in order for them to be successful. You must be able to engage your attendees with questions and answer them as well. The bottom line is that you want to learn from your webinars and your audience wants to know what they are getting from it as well. Here are six ways to make webinars more interactive.
Let your audience know that you are willing to discuss things in depth. Your webinar should always start out by letting your audience know that you would like to touch base with them regarding the topic of your webinar. At the end of it, you can provide a link for more information so they can check out your website for further information. Don't leave them hanging.
Be engaging in your presentation. A great way to do this is to ask questions in the middle of your webinar. For example, if you are explaining how you will be using a particular topic in your webinar, talk briefly about what you are going to cover in your webinar. Then at the very end, talk about any key points that you would like to discuss. Don't hold this webinar back. Just continue on with the presentation.
Use audience questionnaires. An easy way to get your audience engaged is to ask their opinions on a certain topic through a questionnaire. You can ask them questions relating to your topic as well as questions that may be applicable to your webinar. This is a great way to get your audience engaged in your webinar. It is also a great way to weed out people who may not be interested in your product or service.
Create handouts. Handouts are a great way to draw people into your webinar. You can simply take a piece of paper and create a handout or agenda for your webinar. Make sure that you include some space to fill in any questions that your attendees may have.
Use multimedia. You can add audio and video to your webinar. These tools make it easier for people to interact with you. You can use videos to introduce your main point, to show statistics related to your main point, and to provide supporting information. Use visual aids to assist your attendees with their questions.
Get your audience involved. This includes making sure that your webinar is interactive. Ask questions, make statements, create a question and answer session, and encourage audience participation. All of these techniques will help engage your audience.
The bottom line is that webinars are a great way to interact with your audience. However, you need to make sure that you plan each of your webinars properly. You will need to be prepared to answer any question that they might have, as well as interact with your attendees on a number of different levels.
Keep the questions short. Most people hate to talk for more than ten minutes. You can avoid long introductions by asking specific questions when your webinar goes for ten minutes or so. It is best to keep them short because people tend to get tired of lengthy conversations. Asking a question that is more than two minutes long, will also make them bored and will most likely end your webinar on a sour note.
Have your presentations formatted properly. Use the proper software to format your slides. Include all of the information that you want to cover so that your viewers do not have to search for certain things on the screen.
Use the right technology. Webinars are only as interactive as the tools that you use to make them more so. A great idea is to purchase software that allows you to record your presentation, then edit the file using a word processor. Then you can simply play it back in the online browser using your web browser.
These are just a few ways to make webinars more interactive. As you can see there are a lot of ways that you can make your webinar as dynamic as possible. Remember that a webinar is a live show so it has to be entertaining and informative at the same time. Use these tips to make sure that your webinar is entertaining and educational at the same time.