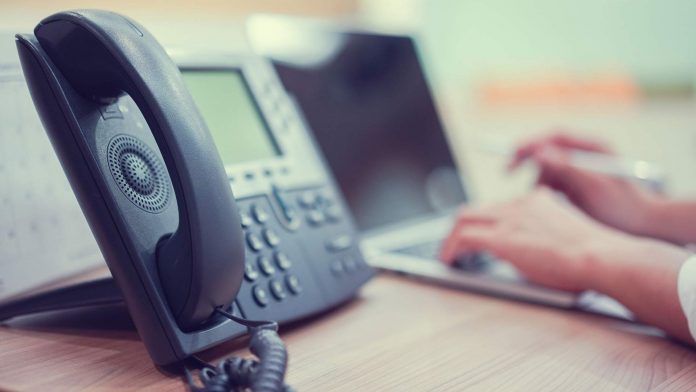 As a business owner or manager, you are constantly looking to reduce costs or improve revenue. Most technologies allow you to do one or the other, but VoIP allows both. With VoIP, a business phone system doesn't have to be a luxury.
Getting started is as simple as signing up for a provider's  VoIP plan , purchasing a VoIP number , and you're good to go. Landlines and PBX systems have served businesses for decades. But the time has come for a full upgrade. If you've ever considered VoIP, you may have been surprised by the  VoIP pricing plans  offered by providers. How can providers offer VoIP plans at such a low cost?
HOW DOES VOIP WORK?
The answer lies in the technology used  by business VoIP service providers . VoIP relies on data networks to route calls. You don't need a separate network or dedicated infrastructure. In other words, voice calls travel the same way your email and documents travel. Organizations that have opted for Cloud VoIP or Hosted VoIP also do not have to purchase any hardware or software. Your provider will deliver phone services over your data network.
And that's just the beginning of the many ways VoIP can help your business save money. You can find new benefits even years after switching. Here are 10 reasons why upgrading your business phone system to VoIP saves money :
1. Hardware
Think about the last time you tried the latest technology. Most likely you have had to buy expensive hardware and equipment for the system. VoIP technology works very differently. If you buy cloud VoIP phone services from a provider, you don't have to buy any hardware .
You can purchase adapters for your existing desk phones to use VoIP. However, most businesses invest in VoIP-enabled phones to make and receive calls.
But you don't have to buy phones for every employee. Users can make calls from their personal smartphones, tablets, laptops, computers, and many other devices with a data connection. The number of phones you should buy will depend on your needs and the number of users .
The hardware savings alone can reach hundreds of dollars, even for a small business.
2. Software
In today's digital world, no system is complete without the software to make it work. With traditional apps, you had to buy licenses for multiple apps . Every time the provider added a new feature, you had to pay for the next version. Thinking of opening a second office or location? Buy more licenses.
Enterprise software was generally priced per user . That meant you had to pay every time your business expanded. What about the other side of the coin? What happens if you lose employees for some reason? You still had to pay the same price.
With VoIP plans, you can forget about software costs. Providers offer their own softphone apps to make calls from any device. If they don't, you can use any app of your choice in the company. Access your account and service features through an online dashboard. Control all aspects of the system instantly.
3. Call charges
This is perhaps the most obvious way a VoIP business phone system saves money . If you have ever looked at a VoIP plan, you will notice that the charges for calls are very low. In fact, they sound too good to be true.
Remember when we talked earlier about how VoIP works? Most calls do not travel over the PSTN at all. You only pay for the portion of the call that travels over the regular network . Long distance VoIP calls touch the PSTN for a distance. That means you pay a few cents per minute compared to the hefty fees traditional carriers charge.
What happens to calls that don't leave your data network? This is where most of your savings will come from. Calls made within your organization, no matter where your employees sit, are completely free . An organization with multiple offices across the country does not pay for calls made from one place to another. Your employees could be sitting at home or in a coffee shop and still make free business calls.
4. Maintenance
This is a pretty obvious way how VoIP can save your business money. Since you have no equipment to maintain , your fixed costs are zero. You don't have to worry about repairing hardware or replacing old cables. Every time you upgrade your network equipment (router, modem, switch, etc.) you are also upgrading your phone system.
5. Updates
VoIP business phone system providers do not charge for news and updates. Generally speaking, VoIP plans will include a wide range of standard business features . Some features may cost more or require you to upgrade to a better plan.
But you don't have to pay a new license fee every time the vendor upgrades the system to a new version. Patches and updates are automatic. You will not experience any interruption in phone service, which is crucial for businesses. VoIP providers also do not have annual contracts for phone services or maintenance.
6. Security
A side effect of moving voice calls to your data network is that they are susceptible to the same types of attacks as other computer systems . It means you have to take security seriously when it comes to your phone system. Hackers and criminals can spy on your phones and make unauthorized calls . They can even jump from your phone system to your computer's servers (if they're on the same network).
Fortunately for your company, your provider will take care of the security. A reputable provider will implement multiple software measures to protect your phone system from unauthorized use. All you have to do is make sure you follow the best practices regarding user accounts and passwords. Something your employees should be doing anyway.
7. Personal
Any VoIP business phone system is so easy to set up and maintain that you don't need experts to do it.  You don't need a dedicated person or department to handle the phones. Think of all the time your workers waste on administrative tasks with phones. Now that you've eliminated those tedious workflows, they can focus on more important tasks. Consider how much you can save if you don't hire another person or two just for the phones.
8. Unified communication
When it comes to business communication, VoIP is just the beginning. Many organizations have already upgraded to Unified Communications (UC) systems. It means bringing all your communication channels together under one roof . Employees can easily switch between different channels like text messages, instant messages, voice calls and video calls.
For that to happen, you need to invest in VoIP phones. They serve as the basis for most UC systems. You can add conferencing or video calling features to your system anytime you need it. With useful add-ons like presence indication (users know if someone is busy or available for calls), productivity will increase. Upgrading to UC from VoIP will cost your business less than installing one from scratch later.
9. Mobility
Remember when mobile phones were a rarity? Just a decade earlier, seeing someone at work with a mobile phone meant he was a high-ranking executive. Not anymore. Smartphones are everywhere in offices now.
What does this mean for your business? You must also support smartphones . It's no longer enough to have a few desk phones. Many VoIP business phone systems support mobility outside of the office. All you have to do is download and install an app . You can make calls with your VoIP number instantly.
Allow employees to make and receive calls on the go. Let them stay in touch with customers and each other, no matter where they are. Never lose an important client or sale because someone was away from their desk.
10. Pay for what you use
VoIP phone systems allow you to pay only for the resources you use . It gives your company a great amount of flexibility . With per-second billing, your calls aren't rounded up to the nearest minute. If a call lasts 2 minutes and 16 seconds, that's what you pay.
This principle also applies to resources such as phone numbers, lines, and users. You can add and remove them as per your requirements. You do not have to pay the whole month or commit to buying a minimum amount.
These are just a few of the ways VoIP can help you reduce costs or increase revenue. Remember that some of these are one-time savings (no hardware purchases) but others are recurring (lower monthly bills). Still not sure about switching to VoIP?  Call VoIPstudio today to see how we can help your business stay competitive. Explore our VoIP pricing and extensive business features .